01. Double your profits
Increase every check
by up to 32%
---
The waiter-independent ordering system, with sharp graphics and smart suggestions, allows and encourages guests to order more and more. With IRT technology they don't have to collect their orders in one large list or wait for their waiter's recommendations. Recent research indicates that this innovative feature alone will increase your average check by up to 32%!
Incredible Up-Selling
---
Think about the IRT as a powerful and tireless sales machine that never sleeps! Don't limit yourself to food. Now you can sell almost anything—consider games, gifts, any types of discounts, gift certificates or tourist packages. Your guests can now book rooms in hotels, order taxis straight to the door, or even purchase vacation packages—and your business will get a percentage of each transaction!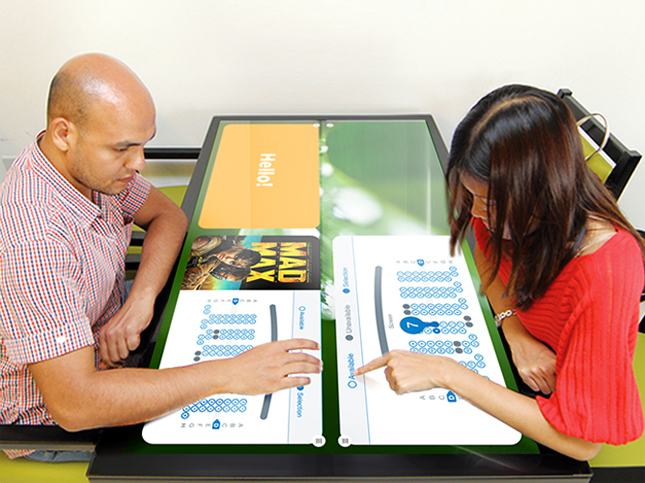 Double your profit "from thin air"
---
With IRT technology, everyone can control an absolutely new and unbelievably powerful advertising channel. It's like broadcasting your own TV channel, but with even more control. You can sell to your visitors outside your doors access to goods and services inside and still make money "from thin air". Used wisely, the IRT will allow you to increase your raw income by up to 50%, which will definitely look good on your bottom line.
Become the local event king
---
Every IRT will bring near limitless possibilities when it comes to dominating local events. With the vivid visual impression that an IRT can create, businesses can take it to new levels in terms of hosting birthday parties, corporate anniversaries and weddings. Decorate any space with the customer's personalized photos using the optional wall projection technology, show thematic slide shows and videos/movies on tables, or run games and competitions between tables. Imagination is now the only limit!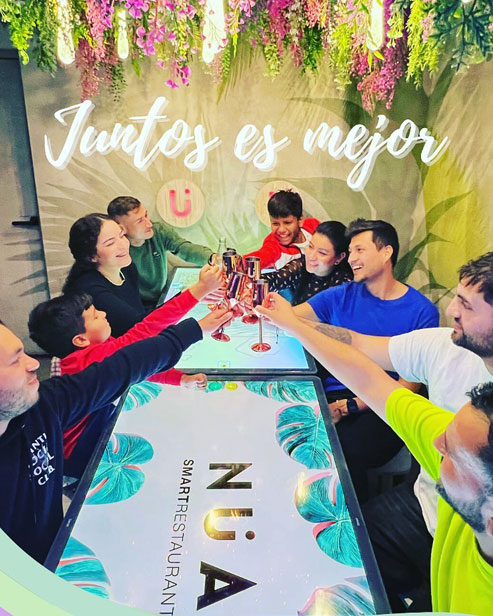 Attract more guests
---
A modern, updated, fresh and inspiring atmosphere will increase visitor flow dramatically. With a new interactive restaurant you'll be able to easily create the "big buzz" every local community constantly craves! So prepare to become the new dining "destination" in the neighborhood scene.
Improve your service speed and accuracy
---
With IRT technology there's no need for waiters to take orders or even to cash-out. These operations will automatically happen without a hitch when your guests are ready. It will take mere seconds and save an enormous amount of time for both the staff and guests. Research indicates that you can expect substantially more visitors per seat in an IRT restaurant versus a more traditional setting.
02. Slash your costs
Save more than $100K every year on staff payroll
---
With IRT technology, only 1/2 of average waiter staff will be required because all straightforward ordering and billing can be easily completed directly by guests at the table! Simultaneously, tips will remain the same thanks to the smart tip collection feature. This means every business will be able to save on staff salary, while adding half of overall table tips to their books.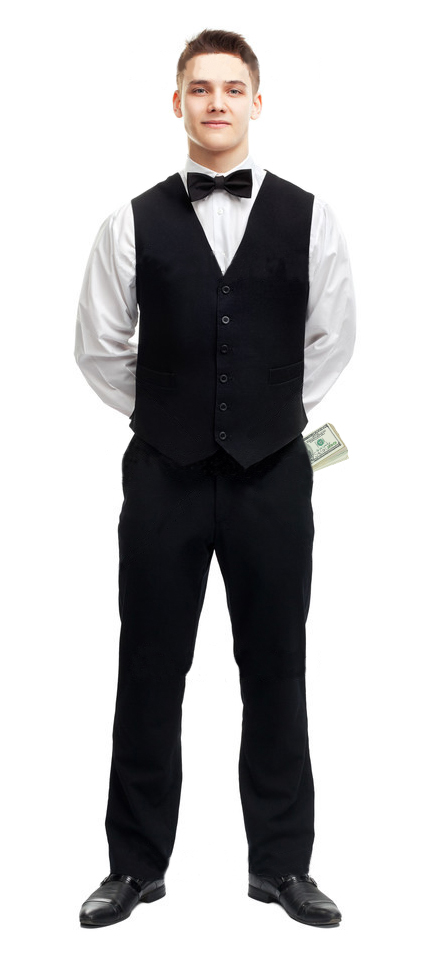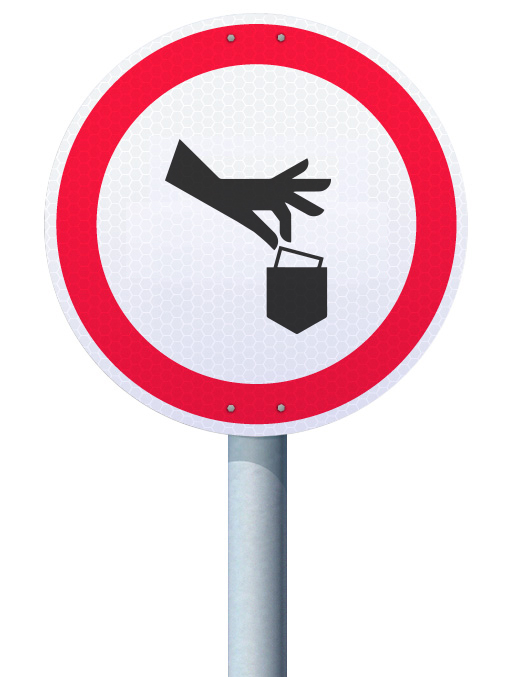 End the costly battle against theft
---
IRT technology allows for complete control of all crucial service stages as well as vital staff. With clear, simple, fully-automated ordering and billing processes, businesses can now end any and all unacceptable losses in FOH operations.
Save money on renovations
---
Now that the restaurant is fully digital, any and every theme as well as your overall daily atmosphere can be altered quickly, easily and very reasonably. New pictures, videos and social media content will continually create fresh, exciting impressions on new visitors and regular guests. And when choosing projection technology for interactive walls, you can do the same with an entire room. A quick, simple and always inviting revamp can now be part of the daily menu.
No more paper
---
Become green and be even more effective while you're at it! With IRT technology, paper is a thing of the past and that's good for everyone. A smart, beautiful and engaging IRT menu will do the same job, only better, and will be easier on the budget as well.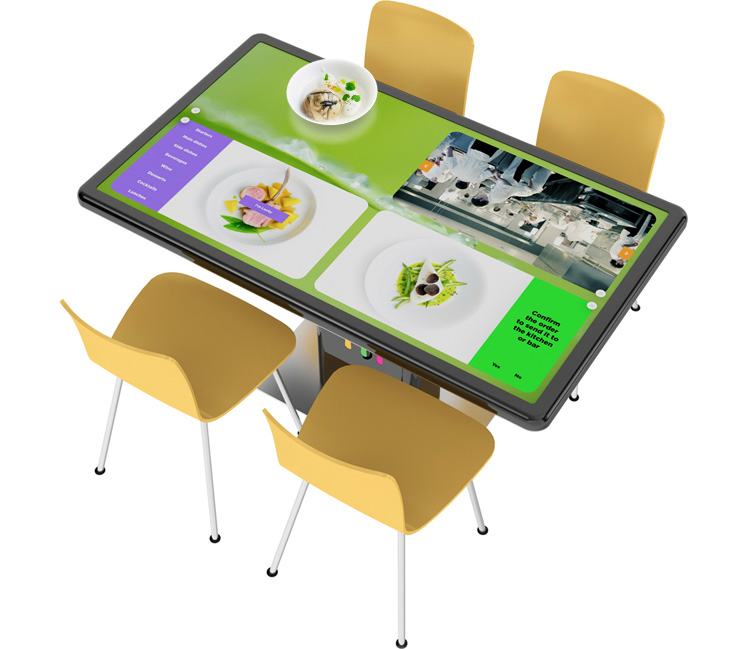 03. Take full control of your business destiny
Effective customer feedback
---
IRT technology will collect all customer feedback much more comprehensively and effectively thanks to the smart and user-friendly software. It will never forget to ask for feedback and will never lose or distort any transaction results, so you'll always have the best information at your fingertips to help make your business run better than ever before.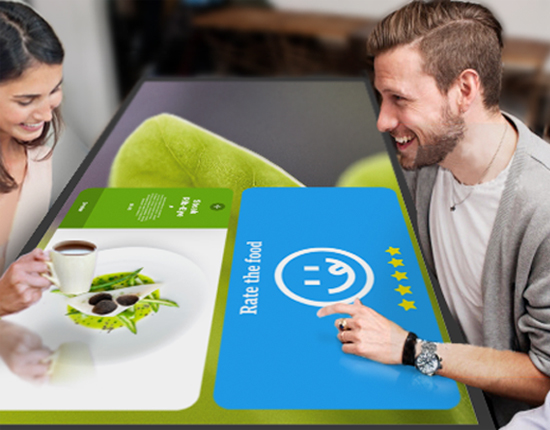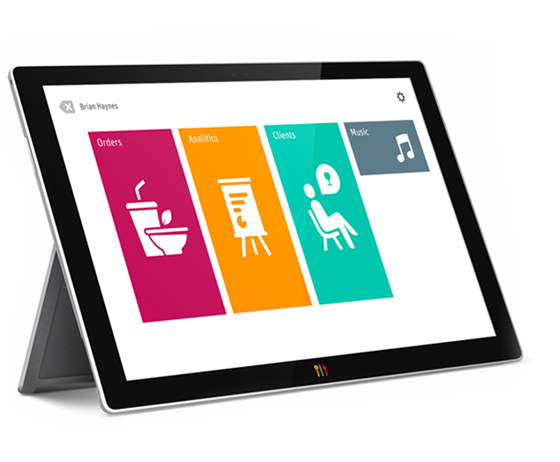 One central
command center
---
Throw away any outdated POS, CRM and ERP software and all the hassles that come with them. Forget about those overly complex reports that are difficult to use or understand. IRT will provide easy access to a simple yet powerful Central Command Center with all the functionality you require and more. Conveniently collect all the vital data needed, and then streamline operations so that they work much more effectively for everyone!
Learn more >
Return your investment next year
---
Installing an IRT system may temporarily increase the budget by 30-40% initially, but it will begin paying for itself immediately before paying off quickly. Depending on certain specific factors you should reasonably expect an ROI in 12-18 months and then enjoy profits from that point forward. IRT technology creates a brand-new, innovative business which will open up new possibilities every day moving forward.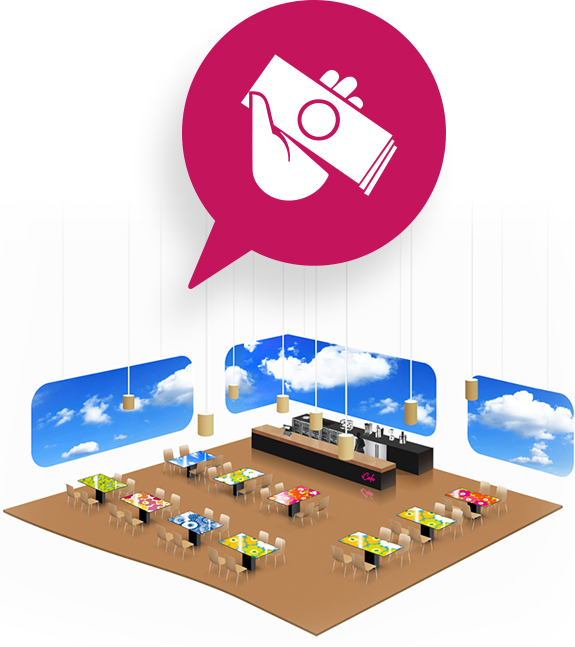 Calculate for your restaurant
Average staff cost (hour)
High traffic shopping street
IRT services enabler
$1 music box feature selling
(50% of time)
Giftcards and specials
(20% of visitors by $2)
Global or local brand ad
($1 per visitor to show)
Local food brand advicing
($1 per visitor to show)
Selling external products
(10% of visitors, 20% of $50 each)
$1 short fun game
(5 minute, 10% of visitors, 4 plays)
IRT technology investment
$325 000
Kitchen equipment cost
$225 000
Visitors per seat every day
1.5
Number of kitchen staff
5
per year
per year
per month
per week
per day
Restaurant economy
| | | |
| --- | --- | --- |
| Number of visitors | 40 500 | 54 000 |
| Food selling revenue | $810 000 | $1 350 000 |
| Food cost | - $405 000 | - $405 000 |
| Staff cost | - $180 000 | - $180 000 |
| Rent cost | -$48 000 | -$48 000 |
| Supply cost | -$24 000 | -$24 000 |
| Food selling profit | $261 000 | $693 000 |
| | | |
| --- | --- | --- |
| IRT tech depreciation | - $108 333 | - $108 333 |
| IRT regular payment | - $90 000 | - $90 000 |
| Leashold depreciation | - $66 667 | - $66 667 |
| Kitchen equipment depreciation | - $37 500 | - $37 500 |
| Renovation depreciation | - $25 000 | - $25 000 |
| Depreciation & technology expenses | - $327 500 | - $327 500 |
| | | |
| --- | --- | --- |
| Tips share of fired waiters (10% above bills) | $14 000 | $14 000 |
| $1 music box feature selling | $14 000 | $14 000 |
| Giftcards and specials across the room | $21 600 | $21 600 |
| Global or local brand advertizing | $54 000 | $54 000 |
| Local food brand advicing | $54 000 | $54 000 |
| Selling external products and services | $54 000 | $54 000 |
| $1 short fun game | $54 000 | $54 000 |
| Total IRT income | $219 600 | $219 600 |
| | | |
| --- | --- | --- |
| Profit befour taxes | $585 100 | $585 100 |
| Profit after taxes (28%) | $421 272 | $421 272 |